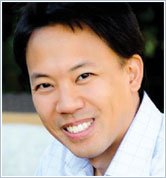 Jim Kwik
Jim Kwik, founder of Kwik Learning, is a world expert in speed-reading, memory improvement, brain performance, and accelerated learning.
For two decades he has served as the mental coach to top celebrities and ceos in entertainment, technology, education and business.
Jim's cutting edge techniques, entertaining presentation style, and impressive brainpower feats have made him a frequent and highly sought out trainer for leading organizations, with clients that include Virgin, Nike, Marriott Hotel, Zappos, SpaceX, NYU, GE, Harvard, and Singularity University. After a childhood brain injury left him learning challenged, Jim created strategies to dramatically enhance his mental performance. He has since dedicated his life to sharing these techniques to help others unleash their true genius and brainpower to learn anything faster and live a life of greater power, productivity and purpose.
Jim has shared the stage with global ambassadors from Sir Richard Branson to his Holiness The Dalai Lama. His work is predominantly featured in the recent NYT best-selling book, "Use Your Brain to Change Your Age." He is the founder and curator of "SuperheroYou – Change Your Brain, Change The World," an annual learning conference featuring an all-star expert faculty and audience of dynamic thinkers, doers and dreamers.