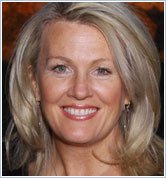 Sarah McLean
Sarah McLean, author of Soul-Centered: Transform Your Life in 8 Weeks with Meditation, is an inspiring, contemporary meditation teacher. Best-selling author Debbie Ford calls her "the new face of mainstream meditation," and the media says she's "an inspirational and dynamic teacher." As the founding director of the Sedona Meditation Training Company and the McLean Meditation Institute, Sarah makes the practice accessible to everyone through meditation and self-discovery retreats, and by training health professionals and individuals how to teach others to meditate. Her personal mission is to support and educate people seeking fulfilling lives, better health, inner peace, and self-awareness through meditation.
Her background in meditation and spiritual study includes a 21-year meditation practice, years as a resident at a Zen Buddhist monastery, and an extended stay at an ashram in India. Other life-expanding adventures include bicycling along the silk route through Pakistan, meditating in temples in Thailand and Japan, trekking the Golden Triangle in Asia, and teaching English to Tibetan Buddhist nuns in exile in India. Sarah was a founding director of Deepak Chopra's mind-body health center and worked with Gary Zukav, author of Seat of the Soul; and Byron Katie, founder of The Work.
Sarah has served as a stress-reduction expert to such prominent organizations as Proctor & Gamble, the Young Presidents' Organizations, and the Thunderbird School of Global Management. She's been featured in The New York Times, Phoenix Woman, ABC, AOL, Spa Magazine, and Organic Spa Magazine. Her meditation CD has gotten rave reviews on Amazon.com, and she was recently featured in two films, Tapping the Source and Sacred Journey of the Heart. When she's not writing, teaching or meditating, Sarah loves to hike the hills of Sedona with her husband and two rescued pups, Rudy and Gigi. Find out more about her work at www.SedonaMeditation.com, www.McLeanMeditation.com or www.Soul-Centered.com.
eBooks
eBook