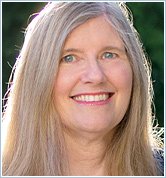 Tinker Lindsay
Tinker Lindsay is an accomplished screenwriter, author, and conceptual editor. A member of the Writers Guild of America (WGA), Independent Writers of Southern California (IWOSC), and Women in Film (WIF), she's worked in the Hollywood entertainment industry for over three decades. Lindsay has written screenplays for major studios such as Disney and Warner Bros., collaborating with award-winning film director Peter Chelsom. Their current screenplay,
Hector and the Search for Happiness,
is in development with Egoli Tossell Film. She also co-wrote the spiritual epic
Buddha: The Inner Warrior
with acclaimed Indian director Pan Nalin, as well as the sci-fi remake of
The Crawling Eye with Cameron Keys.
Lindsay has authored two books—The Last Great Place and My Hollywood Ending—and worked with several noted transformational authors, including Peter Russell, Arjuna Ardagh, and Dara Marks.
Lindsay graduated with high honors from Harvard University in English and American Language and Literature, where she was an editor for The Harvard Crimson. She studied and taught meditation for several years before moving to Los Angeles to live and work. She can usually be found writing in her home office situated directly under the Hollywood sign.